Ikechukwu Ogbonna, also known as IVD, a contentious car salesman, says he is now prepared to disclose the truth about his late wife, Bimbo.
The businessman lost his wife in October 2022 as a result of allegations of domestic abuse, it should be reminded.
Following this, a slew of accusations surfaced, ranging from his wife's murder to a shooting at club Cubana.
See this: Trending Naija Songs Here
IVD, who has been silent on all of this, has said that he is now prepared to provide his own point of view.
He discussed how some have said that he doesn't speak excellent English and have used it as an excuse for why he hasn't stated the truth, while others have said that it's because he's bashful.
IVD dismissed all of this and said that soon people will be hearing his voice and that he would be happy to share the story with his followers.
He stated:
"Some said I can't speak good English am not deducted am always shy to speak, lol but trust me when I speak u will get to find out that am very learned and I can actually speak and brag more than anyone. I only do this coz of social media make see finish no de. If guys really want to hear the truth and wanna hear my voice I will gladly do this for my fans, love you all No disrespect IVD I stan king of the street."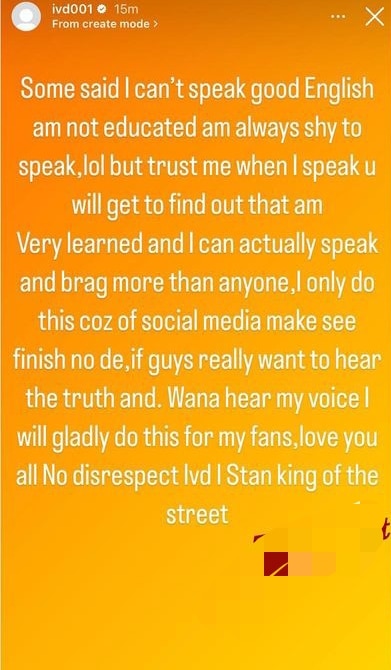 Join our Telegram Channel for Updates!!!
Do you find Six9ja useful? Click here to give us five stars rating!